Street Legal Golf Carts
Coastal Carts offers LSV or Street Legal golf carts in Southwest Florida. We have three options to suit your need for a Street Legal Vehicle. Tomberlin E-Merge, US Electric Vehicle People Mover, and Yamaha Conversion.
Our Street Legal golf carts or Low Speed Vehicle (LSV) are available in electric or gas. Either way, you've got the best ride at the best value. Our Street Legal carts or LSV are available with multiple seats depending on your desire or need. Coastal Cart's road legal golf carts can be purchased directly from us ready to roll with our new Tomberlin E-Merge line. The US Electric Vehicle People Mover is an electric vehicle with seating for 3, 6, or 9. Last, but certainly not least, any Yamaha model vehicle street legal conversion will have you on the go in no time.
Street ready vehicles are titled like cars, and the owner obtains a license plate and insurance just like a car. Don't worry, we'll take care of everything you need to make your golf cart street ready. Take your pick, we'll make it simple.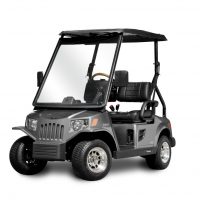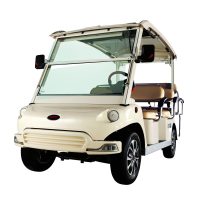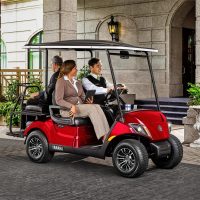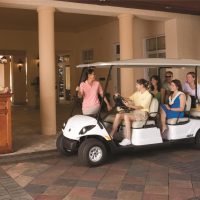 Consumer Use
Street Legal golf carts (LSV) are a perfect fit for consumers who live in communities where you would like to have a "golf cart" sized vehicle, but golf carts are not permitted on the streets.  Communities such as Captiva, Sanibel, Fort Myers Beach, Downtown Ft Myers, Old Ft Myers (McGregor), Downtown Naples, Port Royal, and Marco Island, along with many other communities in Southwest Florida fit this criteria. Coastal Carts is happy to work with you to find the perfect street ready golf cart to suit your specific situation.
– While more expensive than golf carts to purchase and insure, street legal golf carts are far less expensive than having an automobile. For families, it is possible to have a car and LSV, instead of 2 cars, and thus, a large savings.
Commercial Use
Road legal golf carts are also popular with businesses. Some Florida businesses who've purchased street legal carts from us in the past include businesses such as inner-city hotels offering concierge service, tourist or vacation destination rentals who offer transportation service to their guests, downtown attractions, and property management facilities who use LSV for concierge & security purposes. Other vehicles are perfect for landscaping, hauling, and moving workers around a campus facility. Of course, there are nearly as many uses for a street ready vehicle in the business sector as there are businesses. If you can think of a reason why you need a LSV, we can customize one to fit your specific needs.
Are you ready to schedule a test drive ?