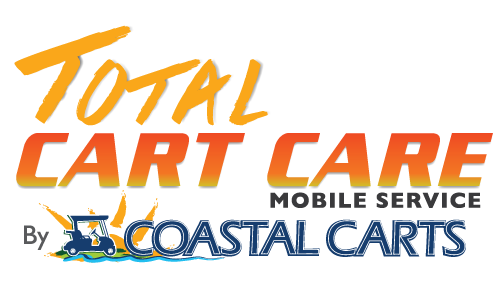 Total Cart Care by Coastal Carts
Quick. Easy. Clean. Expert. Affordable.
We know you enjoy using your cart every day! But nobody really enjoys the hassle of cart service. That's where Total Cart Care comes in. Let our expert technicians handle the job. Just use your cart…leave the expert service to Coastal Carts.
Still not sure? We've answered our most frequent questions that have helped other clients decide Total Cart Care was perfect for them.
Just use your cart...Leave the expert service to Coastal Carts.
Simply enjoy and utilize your cart. You can trust the rest to our expert technicians.
Cart is NOT equal to Car
Carts require services that differ from automobiles. If you're not aware of all the nuances, your cart may not be receiving the service attention it needs. Unscheduled downtime and costly repairs may result. Trust your cart care to our expert technicians. We'll maximize uptime while minimizing ownership cost.
How to safely handle battery acid: Allow us
If you don't enjoy handling battery acid, airing up tires, and all the rest, you are not alone. Carts require special tools, materials, and skills. If you're enjoying this monthly service, great! If not, that's okay. Just use your cart, charge it nightly, and trust the rest to our expert technicians.
Don't take my cart away!
Your cart has become part of your daily routine – it's how you get things done. Don't let other service providers take it away for a week or two. Most of your cart service can be completed right there, on-site, by our expert technicians. Relax, we're already done!
Quick. Easy. Clean. Expert. Affordable.
Seasonal Neighbors: We'll help you with that To-Do list!
Don't allow cart downtime each time you return to SWFL interfere with your relaxation time. Know that just as your home needs a little attention while you're gone, so does your golf cart. Trust our expert technicians to check and service your cart all year, including the summer. When you're ready, so is your cart.
Easy Billing
Our subscription service is automatically and safely billed to your credit card each month.
Got a whole fleet? You're covered!
Our experts will do what we do best, so your experts can do what they do best!
Clean Machine! Introducing Mobile Cart Detailing
Coastal Carts also offers expert mobile detailing of your cart. Call for details and pricing.
Give Us a Call or Leave Us Your Information to Learn More.
Personally identifiable information collected on this site will be used to respond to your comments or requests for information.