06 Nov

Your New Golf Cart Transportation
Less is More: Your New Golf Cart Transportation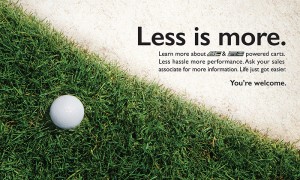 Mobility is important; it gives us freedom. You want the option to go wherever you please. You love using your golf cart for transportation needs, but if it's time for a new one you want to make the right decision.   There are many factors to consider when shopping around, but keep in mind, sometimes less means more.
Advantages of AC Power over DC Power
AC current powers most electrical machines in your life. AC has an advantage over DC, direct current, because it has more available torque at low speeds. What does this mean? More power and low acceleration with less energy usage. You can rest assured, you are receiving more performance for less hassle. AC power motors have fewer wear parts than DC power motors. This means that your maintenance time and costs will be significantly less.
The AC motor operates more efficiently, drawing fewer amps. This results in a lower power demand on start.
You can see the obvious advantages of the AC power motor for your golf cart. New Yamaha golf carts have been innovatively designed with AC motors to ensure high performance through simplicity. If you have a need for a new golf cart, Yamaha has the right fit for you.
Whether you are looking for a cart to cruise around your community, help with tasks around your home, or for simply for leisure, we can help you find the right golf cart. We have been a leader in the golf cart sales industry for 20 years, providing quality golf carts, parts, accessories and service. With us, you can expect professional staff, timely service and fair prices. Call (239) 936-5676 or browse our website for more information!