08 Sep

Coastal Carts, A Cut Above, Wins Double Eagle Award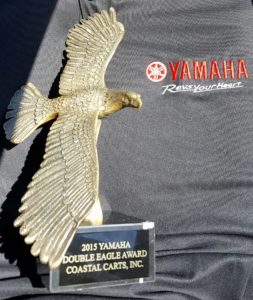 Coastal Carts of Southwest Florida, a locally owned and operated golf cart, power equipment sales, service, parts and rental company, recently won a Double Eagle Award from Yamaha Golf Car Company recognizing outstanding dealers for 2015.
Don Imbus, owner of Coastal Carts, was given the award at the biannual dealer meeting at Ross B
ridge Resort in Birmingham, Alabama.
"The Coastal Carts team were thrilled to receive another Double Eagle Award from Yamaha Golf Car Company for sales performance in 2015, stated Imbus. "Yamaha is an exceptionally strong brand and the quality it brings to the marketplace is coupled with a robust demand in Southwest Florida for these products. Along with superior experience that Coastal Carts is known to deliver, having made this prestigious award possible, our sincerest thanks go out to all of our customers."
Coastal Carts has been serving Southwest Florida for over 20 years and is a Yamaha Authorized Dealer. Coastal Carts also sells — USEV and Tomberlin street legal vehicles as well as providing services for all types of golf cars and golf carts in Southwest Florida.
Hours of operation are Monday through Friday 7:30 am to 4:30 pm and by appointment on Saturday. For more information, contact us.